It looks like some people are once again stirring up discussion over the location of the annual Georgia-Florida (or vice versa) football game. Or at least that's what an
AJC blog
wants
you to believe. But if you follow the link they give to
the actual ne
ws story
, it doesn't look like any changes are going to happen anytime soon.
To sum up what the article says, the president of the Atlanta Sports Council and others have been in talks with athletic association big cheeses at UGA, because the current UGA-UF game contract for Jacksonville ends next year. Apparently, some of these people want to have the Cocktail Party in Atlanta at least one of the next four games, which is a little odd to me.
However, the article makes it very clear (even in its heading) that Damon Evans, UGA's athletic director, doesn't really want to hear any of it. Or, at the very least, he doesn't want to move the game.
And we all know how the Florida representatives feel. Of course, to them, Jacksonville is the most beautiful city in the world, and to move the game would be to abandon eons of tradition and basically destroy any meaning the game currently has to its fans.
Right.
I'll go ahead and drop
my opinion
on the matter below, and if you don't want to read the
TRUTH AND FLAWLESS FACTS
, do not read any further. (just kidding, please read, lol.)
---------------------------------------------------------------------------------------
My Reasons Why the Georgia-Florida Game Sho
uld Move (At least Every Other Year)
1. The distance. According to Mapquest.com, the city of Jacksonville is
362 miles from Athens
and will take (with considerably thin traffic) 5 hours and 57 minutes to get to. That means it is just a little bit longer than an enjoyable drive in the great tree-lined boring roads of central and south Georgia.
Does the picture above look familiar to you? No? Well it does to me. It looks just like what I looked at for 5 hours and 57 minutes last year on the way to Jacksonville for the Florida game. It was a thrilling drive. Nothing better to get me pumped up for a football game.
In contrast, Mapquest tells me that from Gainesville, FL to Jacksonville, it's a mere 71 miles and a nice, Saturday morning walk (at 65 mph) of 1 hour and 21 minutes to reach the destination.
Some Gator fans don't even
need wheels
on their car to get to the game in about an hour. That's nothing. Why are so many Georgia fans taking extreme and amazing journeys to get to this game, while Florida fans can leave on Saturday morning with little or no problem? Some argue that the distance factor can affect the football teams as well, but in my opinion, the worst part is how it affects the fans. Even if you somehow enjoy the drive, don't you feel weird about all of the Gator fans who live in the area of Jacksonville and walk to the game? Feels a little like... I don't know.... an away game for us?
2. Jacksonville is in Gator Country. I really don't see how you can deny this with a straight face (but if you do, I'll give you a prize.) I've heard some say that "the biggest Bulldog Club in the country is in Jacksonville." Well, whoop-dee-doo. Even if most Georgia Tech fans live in their parents' basements, the house STILL BELONGS to their parents. (Sorry about that one Tech fans. I really like all of you.)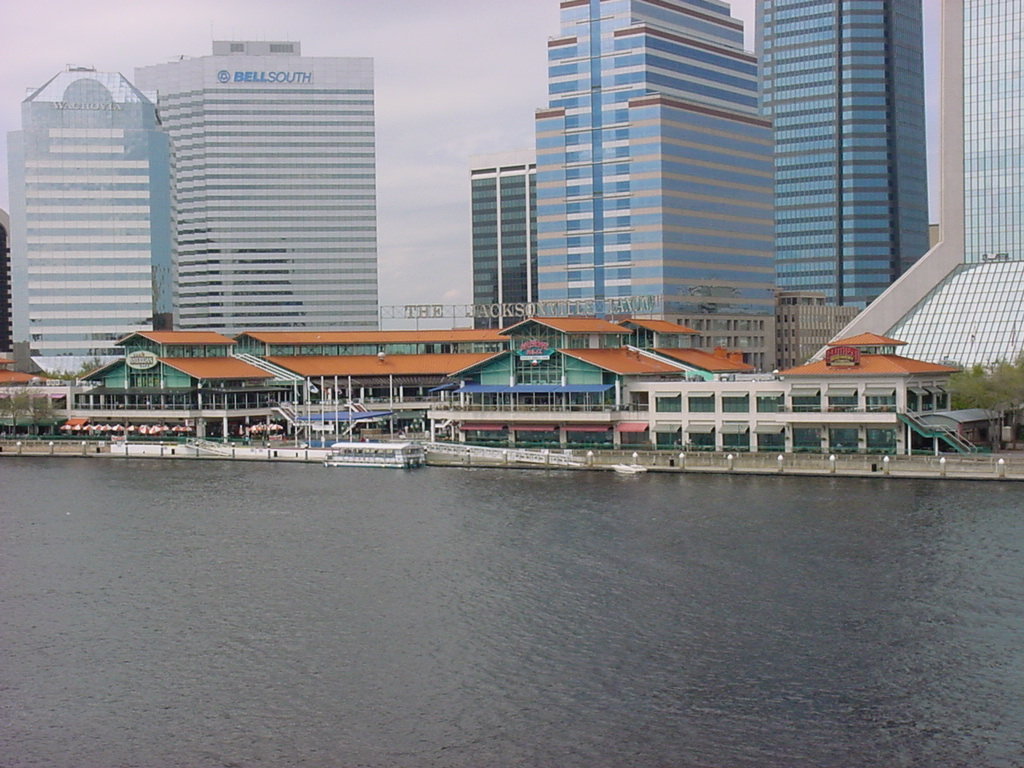 Notice above: This is the Jacksonville Landing, where Florida and Georgia fans alike love to party before (and, depending on who wins) after the game every year. But is there something sinister you are overlooking, my fellow Dawgs? The roof of the Landing is completely ORANGE. And the beautiful, polluted water surrounding it? The purest of Gator BLUE. That's right, the Landing is basically a huge open gator jaw, and you unaware bulldogs are stepping right into it, throwing away your money for expensive Gator drinks and Gator fun.
In all seriousness though, it's hard to make yourself feel like you're at a "neutral" game when you go to Jacksonville. Yes, there are Red and Black garbed barkers, traveling in packs around certain areas, but when you go into restaurants, hotels, and city hall
(Go Gator)
you see people wearing mostly blue and orange.
Even if you feel like none of this affects the outcome of the games, doesn't it bother you just a little bit? The state of Florida (and specifically the city of Jacksonville), which is clearly and obviously in support of the University of Florida, is benefiting the most. And so are the Florida fans, who generally have a close-to-home game and probably feel much more at home than us Georgia-born UGA fans.
But if this isn't enough to sway you, allow me to move to this
.

Why the game should stay in Jacksonville
:



1
.
Tradition.
This is what people like to say the most about the whole ordeal.
And really, it's a pretty good argument.
The game has been played since 1915, and every game except for two since 1933 has been played in Jacksonville. So, for the most part, this game has been rooted in Jacksonville, Florida. However, this is one of those things that's difficult to resolve. A lot of people argue for or against concrete tradition all the time, and the results in decisions are varied. For instance, many argued against Georgia wearing new black uniforms in 2007, but the decision resulted in one of the most electrifying atmospheres ever seen in Sanford Stadium as it was blacked out for the Georgia-Auburn game that year. Of course, things go both ways, and the Alabama "funeral" game of 2008 makes traditionalists look smart. And other traditions are too important to ever change, such as the look and bloodline of Uga.
2. It's a vacation for Georgia fans, and Atlanta sucks.
Well, parts of this argument may be true. Jacksonville is in close proximity to some great beaches (and plenty of other great cities/attractions in Florida), while Atlanta isn't exactly known for having a tropical beach feel. But once again, this comes down to mostly opinion. Personally, I'm not very fond of Jacksonville (although nearby Amelia Island is a great place to visit), and Atlanta CAN be a fun place for football games. The SEC Championship is played there every year which seems to work out well. Not to mention the Georgia Dome is now completely red and black, which is awesome.
-----------------------------------------------------------------------------------------
In conclusion, it's a really difficult situation to find an answer to, and that's exactly why the game isn't moving anytime soon. Personally, I'd like to see it move every once in a while for a difference, and I feel like, if anything, Gator fans enjoy the game being in Jacksonville more than anyone.
Let me reiterate that I don't know how much, if any, affect the location of the game has had on the results of the games or the performances of the teams. That isn't even part of my argument. I just believe that Jacksonville is Gator Country, and it doesn't sit well with me that the game is in Gator Country every year. HOWEVER, as I said before, tradition should be respected, and nevertheless, the game will not be moved. At least for a while.
(PS: To all Georgia fans who like Jacksonville, love having the game there, and actually feel like it's best for you: Good. I respect your opinion and I'm glad you enjoy it. Go Dawgs.)